Turquoise waters, loads of sunshine and endless great Greek food … that's how our past ten days here in Lefkada, Greece looked like.
We had such a great time with family and friends staying here with us at a lovely boutique hotel in a small Greek fishermen's town for our wedding ceremony.
We couldn't be more thankful for such an unforgettable time!
Each day we not only enjoyed the turquoise waters of the Ionian Sea, which are really unique and definitely not seen in any other place in such beautiful colors, but also had such fun days by the beach with friends and family.
To look great not only during our wedding day, but also on the beach, I've lived my days here in Lefkada in my new favorite swimsuit by Hunkemöller. The material is not only so comfy, but the feminine cut really highlights your body (even if you're pregnant – believe me!).
They have such cute bikinis and swimwear sets in general, so you should definitely look at their website before heading out to your late summer holiday or winter getaway. You wouldn't want to miss out on their swimsuit line!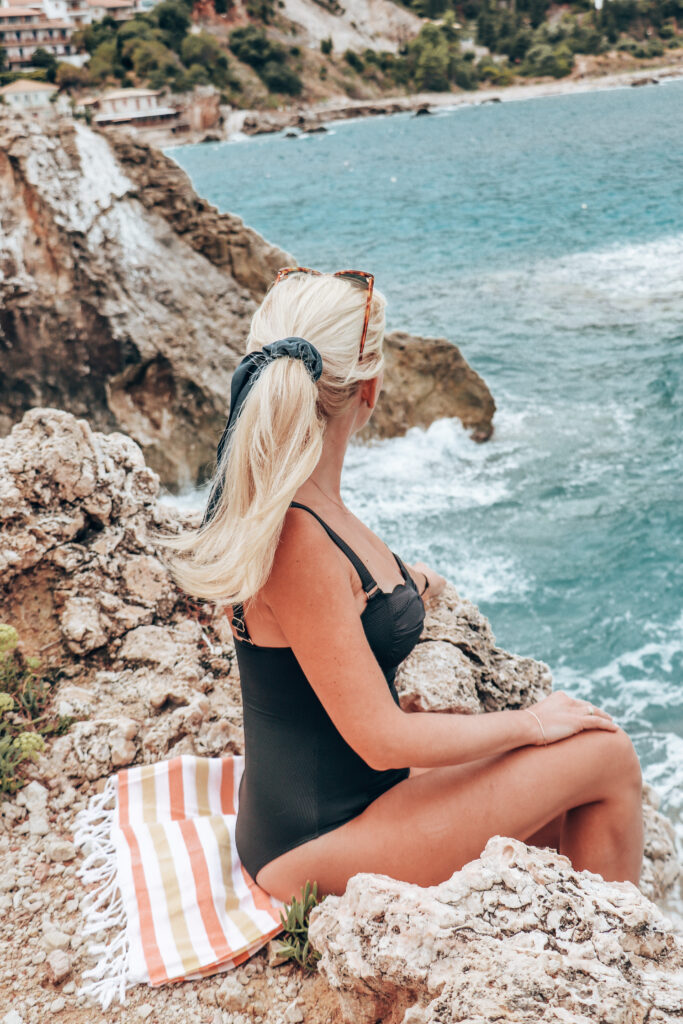 //
Türkises Wasser, wohin das Auge blickt, gute Freunde und Familie sowie unendlich leckeres Griechisches Essen und jede Menge Sonnenschein … so sahen unsere letzten zehn Tage hier in einem kleinen Griechischen Fischerdorf in Lefkada aus.
Wir haben Familie und Freunde zu unserer Hochzeit hier in Griechenland geladen und die Zeit ist wie im Flug vergangen. Das was bleibt sind die Erinnerungen an unvergesslich schöne gemeinsame Momente, die sich surreal – fast wie ein Traum anfühlen.
Und damit ich nicht nur am Hochzeitstag selbst gut aussah, sondern auch jeden Tag am Strand, hab ich mir vor unserer Reise meinen neuen absoluten Lieblingsbadeanzug online bei hunkemoller.de bestellt. Denn die meiste Zeit verbringe ich am Liebsten ja am Strand und genieße den Ausblick auf das unendlich türkis-blaue Ionische Meer.
Das Material ist super angenehm und vor allem der feminine Schnitt der Badeteile sind für mich ein besonderes Highlight der Hunkemöller-Badekollektion! Der Stoff schmiegt sich an den Körper und man fühlt sich super gut (auch als Schwangere!).
Also definitiv vor dem nächsten spätsommerlichen Trip oder Wintertrip im Online Shop vorbeischauen.
xo,
Kris